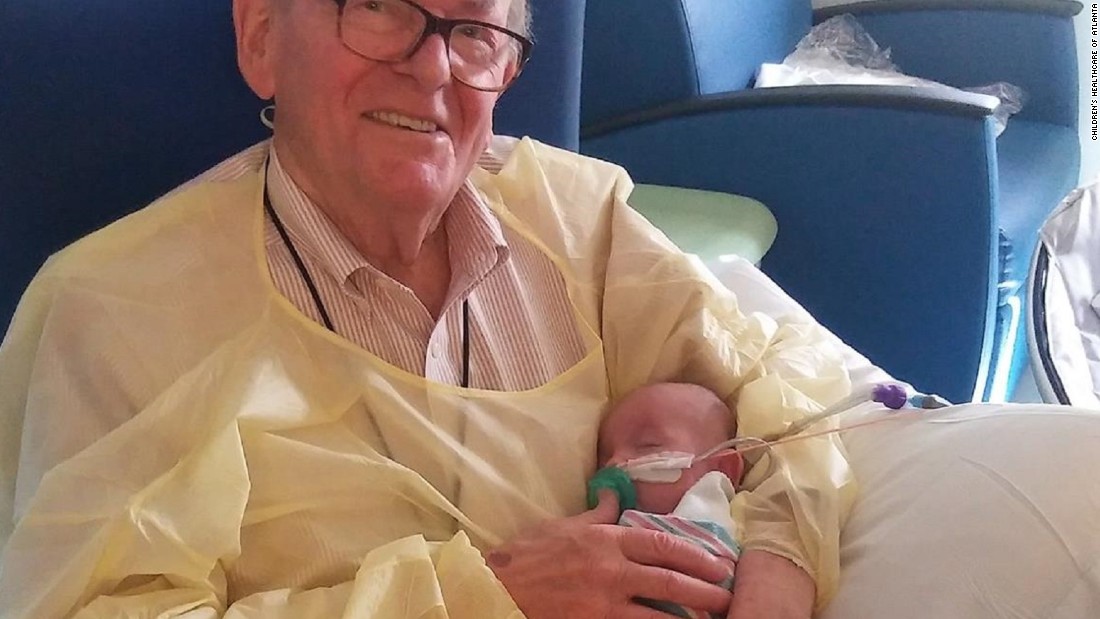 These had been the nicknames that David Deutchman earned by volunteering for 14 years at Children's Healthcare of Atlanta at Scottish Rite.
Every Tuesday and Thursday, Deutchman would head to the hospital to consolation and look after sick and untimely infants.
On November 14, Deutchman died on the age of 86, simply 17 days after being recognized with stage IV pancreatic most cancers, his household mentioned.
"We're grateful for every minute of every day we got with this great husband, father and grandfather," his daughter, Susan Lilly instructed CNN.
Why he was known as 'the child whisperer'
Many folks solely set foot inside a hospital when there is a medical have to, or an emergency. But Deutchman was not like most individuals.
He spent his profession working in worldwide gross sales — and after he retired, he determined to start out volunteering.
"He was at a physical therapy appointment in the neighboring building and he saw the hospital and just popped in," Lilly mentioned. "He said, 'I want to do something with kids."
That result in his subsequent act: changing into "the baby whisperer," Lilly mentioned.
Joanna Slade, a nurse at Children's Healthcare of Atlanta, who labored with Deutchman within the hospital for eight years, mentioned she by no means noticed a child crying in his arms.
"He was a very soothing presence to our children," Slade mentioned. "He would always be there to cuddle the child when the parents or family couldn't be there."
Volunteering within the neonatal intensive care unit takes specialised coaching. Once Deutchman had accomplished his coaching, he turned well-known all through the hospital and infrequently fashioned lengthy relationships with the households he met.
"He just really had an incredible touch comforting babies," Lilly mentioned. "And then, often their parents."
But, Lilly added, "He always said the impact on him was far greater than what he thought he had on them. He got so much from it."
His neighborhood held a drive-by parade in his honor
Once Deutchman's analysis turned identified, the workers at Children's Healthcare of Atlanta and his "kids" started to indicate their "ICU Grandpa" how a lot he meant to them.
Slade and the workers at Children's Healthcare of Atlanta organized a drive-by parade in entrance of his residence that featured a NICU transport truck and vehicles embellished with balloons, hearts and nicely needs.
"The love was palpable," Lilly mentioned. "There's very little that anyone can say or do when you're in grief like this, but our family definitely recognizes and appreciates the outpouring of love from those he touched."
Slade mentioned she hopes that Deutchman's legacy will proceed to supply some consolation to households sooner or later.
"I certainly hope that families who have lost a child take a little comfort in knowing that there's an ICU Grandpa with open arms waiting to comfort them."